PEI Cottage Rental Rates at Lord's Seaside Cottages
Curious about our PEI Cottage Rental Rates?
Here at Lord's Seaside Cottages, we provide 10 beautiful cottages for rent in PEI, all located directly in front of the ocean. We can accommodate groups of all sizes - from 2 people, all the way up to 6! You can find additional information on our cottages for rent in PEI by reviewing that section of our website and selecting either our
1 Bedroom Luxury Cottage
,
2 Bedrooms
, or
3 Bedrooms
.
Our rates for each PEI cottage vary depending on the time of year. We offer each of our cottages in PEI at a reduced rate during our off-season, which starts on May 1 and lasts until the end of June. Like all accommodations on PEI, our summer season rates are a little higher due to demand. From July 1 to September 15, we only rent our cottages on a weekly basis (from Saturday to Saturday).
For additional details on pricing for each of our PEI cottage rentals, please see the chart below.
| | | | |
| --- | --- | --- | --- |
| Cottage Type | Bedrooms | Summer Cost (July-September 15) | Off-Season Cost (May - June | Sept 15 - Oct 31) |
| Cottage #2 | 1 | $1190/week $170/night | $125/night |
| Cottage #0 | 2 | $1260/week $180/night | $130/night |
| Cottage #1 | 2 | $1260/week $180/night | $125/night |
| Cottage #8 | 2 | $1365/week $195/night | $140/night |
| Cottage #9 | 2 | $1275/week $185/night | $130/night |
| Cottage #3 | 3 | $1330/week $190/night | $135/night |
| Cottage #4 | 3 | $1330/week $190/night | $135/night |
| Cottage #5 | 3 | $1330/week $190/night | $135/night |
| Cottage #6 | 3 | $1330/week $190/night | $135/night |
| Cottage #7 | 3 | $1330/week $190/night | $135/night |
What's Included?
We want to ensure your visit is stress-free, so we provide everything you need at your PEI cottage rental including dishes, cookware, BBQ's, and more! All you need to bring is your sunscreen ;) For a full list of amenities, please visit our amenities page.


Step 1: Visit the Online PEI Cottage Booking Calendar
The first thing you'll want to do is visit our online booking calendar. The link can be found below.
Step 2: Review Availability For Each Unit
You will be brought to a summary page which shows you all cottages in PEI we have available. You will notice an overview of each unit's availability on a chart that shows if it is available on a certain date. You will know which of our PEI cottages are available when you see a green square. Dates with a red square mean the unit is already booked. See the image below:
Step 3: Select the dates for your stay
To select the dates for the PEI cottage you wish to reserve, simply hover your mouse over the green block. You will notice your mouse cursor turns into a hand symbol, allowing you to click the green square. Please note, if you click on a green square shown for our summer season dates (from July to September 15), if there aren't 7 full days available for booking and it's not a Saturday, you will not be able to make your reservation online. The reason being is that during our summer season, we only permit weekly rentals which go from Saturday to Saturday. At times, we get cancellations, which is why you may see scattered green blocks for these dates. To make a custom reservation for one of our cancellation blocks, you'll have to speak with the resort owner directly at elayne@lordsseasidecottages.com or call 1-888-228-6765.
Step 4: Select Your Cottage
After you select your dates, you'll be taken to a page that shows you all the units that are available on that specific date. When you find the unit you wish to book, click on the drop down menu located under the heading "select cottages". You will see two options (0 and 1). Please select option 1 so the system knows you wish to book that unit. You'll notice immediately that there is now a 'reserve' button located in the far right column that shows the total price.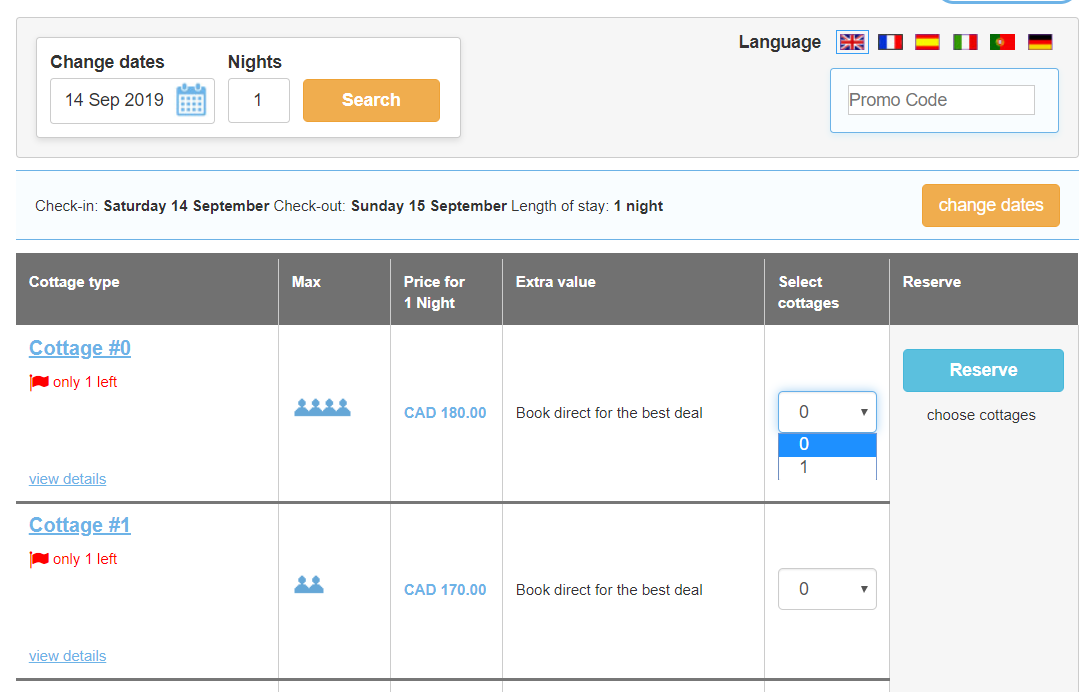 Select option 1 from the drop down menu beside the cottage you wish to reserve.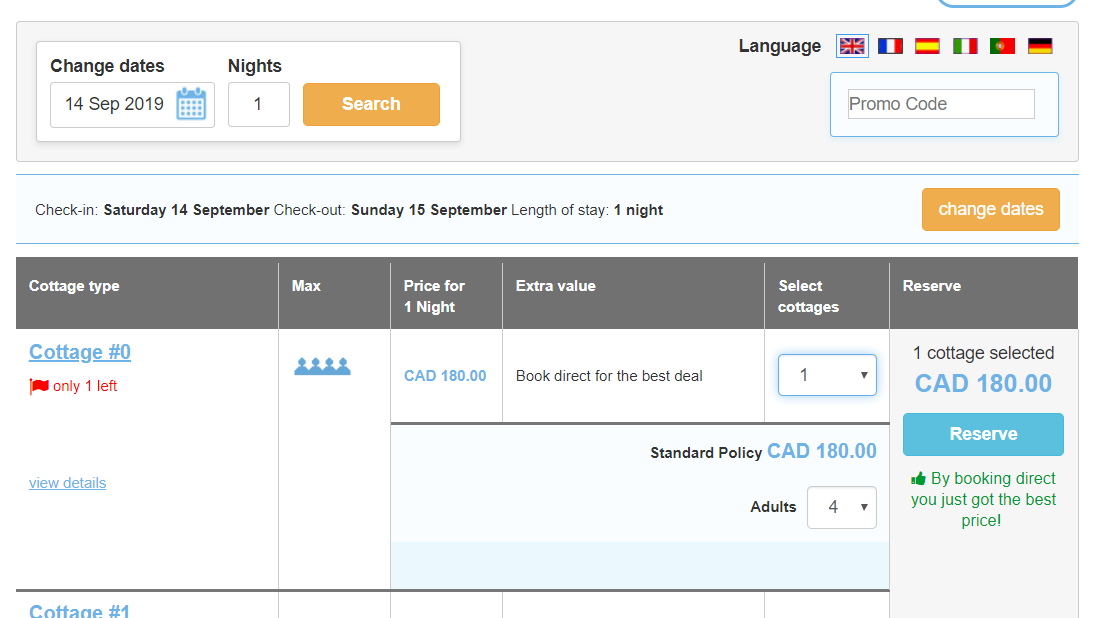 Click on the "reserve" button that appears after you've selected your cottage.
Step 5: Finalize Your Booking
You'll be directed to a form where you'll need to enter your information including contact name, phone number and other important details we need from you to reserve your PEI cottage.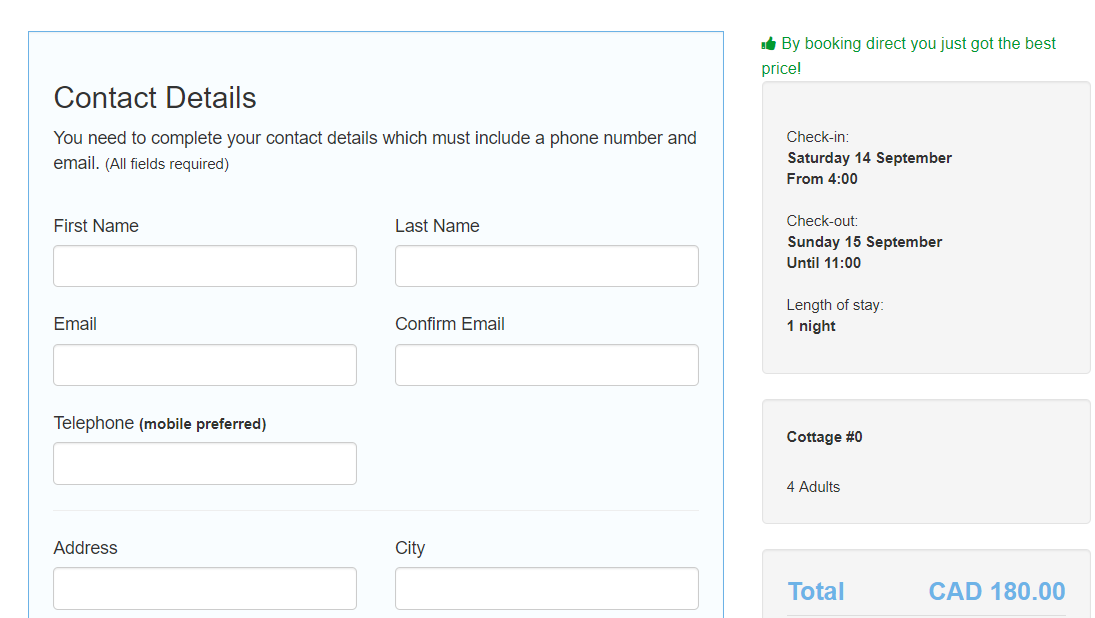 VIDEO: How To Book Your PEI Cottage Rental Online
What Payment Methods Do You Accept?
For your convenience, we accept all major credit cards on site or when you book online. You can also pay with debit upon your arrival.
How Much is the Deposit for my PEI Cottage Rental at Lord's Seaside Cottages?
We have a very straightforward booking process.
Questions About Booking Your PEI Cottage Online?
If you have questions or need assistance with a reservation, please contact us at 1.888.228.6765 or send us an email at elayne@lordsseasidecottages.com.